The company
The CARSTENS LÜBECKER MARZIPAN company was founded in 1845 in the old Hanseatic city of Lübeck, famous throughout the world for its marzipan. Like many later marzipan producers, the firm was at first active in the field of making conserves. Then in the second half of the 19th century the production of Lübeck marzipan specialities was begun. By the turn of the century, CARSTENS was concentrating exclusively on this strongly expanding field, and developed into one of the most important firms in the Lübeck marzipan sector. Thus, for instance, on 10 August 1874 one of our founders, Mrs Charlotte Erasmi, was granted the title of supplier to the imperial court of Emperor Wilhelm I.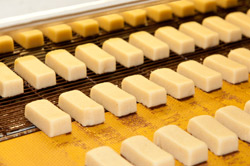 In the course of the 20th century, building on over 100 years of experience, CARSTENS ultimately perfected its industrial production of marzipan. For the benefit of the consumer, today over 150 different premium products containing the world-famous Lübeck marzipan are manufactured by means of skilled craftsmanship to the highest technical standard, and distributed around the world.
In order to satisfy the consumer's demand for high quality, our firm relies exclusively on the use of the most carefully selected ingredients and well-proven recipes. In addition, the unique quality of our products can be traced to the special ratio used when combining the basic ingredients: marzipan paste and sugar. The higher the proportion of marzipan paste, the more intensively the aromatic almond flavour is developed in the marzipan end product. Following this principle, all of the chocolate-coated marzipan products and most of the marzipan figures have a marzipan paste content of 90%. The low sugar content of 10% makes our products a delight to the palate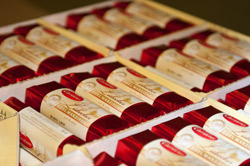 "Marzipan from Lübeck" is, in fact, a designation indicating high quality. As an indicator of geographical origin, this designation has been legally protected in the entire area of the European Union since1996.
Think as we do - no compromises in choosing quality!